When constructing the second-largest cement plant in North America with an eye toward not only increasing capacity and meeting current market demands but also achieving sustainability goals, the building team brought creativity and innovation to the task.

When constructing the second largest cement plant in North America with an eye toward not only increasing capacity and meeting current market demands but also achieving sustainability goals, the entire building team must bring creativity and innovation to the task.
Heidelberg Materials, formerly known as Lehigh Hanson, expects to begin clinker production at its new state-of-the-art facility on the Mitchell Cement Plant and Terminal grounds, located in Mitchell, Indiana, in early 2023. Construction of the Mitchell K4 project, which required approximately 1,000 workers, broke ground in late 2019, but experienced delays due to COVID-19 and resumed in September 2020 at an accelerated pace. The $600+ million project is the largest capital investment in the history of Heidelberg Materials.
"We really have an all-star team working on the project. The Heidelberg Materials team overseeing the plant construction operated as the general contractor and this group has done an exceptional job managing the many challenges presented by COVID-19 and supply chain issues. Additionally, the construction team and plant team have cooperated at a high level to keep construction moving and minimize the impact to current operations," says Tracy Crowther, Mitchell Plant Manager, Heidelberg Materials.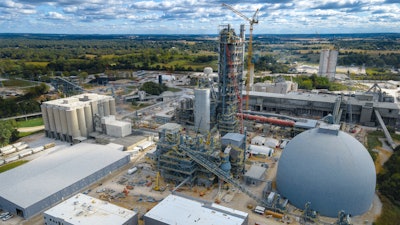 The construction team and trade workers, along with Heidelberg Materials' employees and vendors, accomplished several "firsts" on the project. Noteworthy was a clinker storage dome that measures 66.8 m (219 ft.) in diameter and 50.2 m (164 ft.) high with a storage capacity of 169,000 metric tons. Dome Technology, a specialty contractor based in Idaho Falls, Ida., developed the proprietary shotcrete construction method used on the dome and was also responsible for setting the deep foundations and ring beams as well as constructing tunnels and an at-grade entry for front-end loaders. According to Dome Technology, the Mitchell plant dome is the largest clinker storage in the Western Hemisphere and second in the world only to a Romanian structure Dome Technology built in 2008. The erection process included inflating a custom-sized, air-supported PVC airform, installing rebar inside the membrane, and applying shotcrete in layers to its surface. The membrane stayed in place as a permanent waterproof membrane. (Watch a video of the dome inflation process below.) Prior to the dome's construction, contractors evaluated mix pumpability and ease of placement using mockups and test panels, as well as conducted strength tests and pulled core samples. The finished dome is high-strength, resilient and long-lasting, and has a high tolerance for differential settlement.
The site's current three kilns were replaced with a single kiln that measures 80 m long and has a 5.4-m diameter. The kiln will have a production capacity of 7,000 metric tons per day. Construction also included a 52-meter-tall (170 ft.) blending silo that was slip-poured and required 1,900 cubic yards of concrete to construct; a 127-meter-tall (416 ft.) five-stage steel preheater tower whose foundation is constructed of 3,400 yards3 of concrete; and a 29,400-sq.-ft. packhouse.
"Everyone on the Mitchell team, from operations to project management to government affairs, is constantly searching for new and innovative ways for the company to lower our energy use as well as our carbon emissions," says Axel Conrads, Midwest Region President, Heidelberg Materials. "Although we have a lot of 'firsts' associated with the facility already, we believe those are only the beginning and there are many more 'firsts' yet to come."
Sustainability targets for the K4 facility are in line with the Portland Cement Association (PCA) Roadmap to Carbon Neutrality and include increasing the use of portland-limestone cement (PLC), continuing energy efficiency improvements, and fueling the plant with natural gas with a continued effort at innovations using alternative fuels.
According to the PCA, universal acceptance of PLC will reduce clinker consumption and decrease emissions. PLC is a type of blended cement that contains a greater percentage of limestone than traditional portland cement. The Mitchell plant not only produces, but used in its construction, a proprietary portland-limestone cement known as EcoCemPLC, which has as much as 10% more limestone content than ordinary cement. It uses the same components and has the same yields as ASTM Type I-II/AASHTO Type I portland cement and has equivalent performance, meeting ASTM C595 Type IL standards. It requires less energy to produce, thereby lowering the carbon emissions associated with cement production. EcoCemPLC is available in bulk and bag and is ideal for use in the production of concrete block and pavers, for concrete pavement and soil stabilization and for ready-mixed concrete applications. For the clinker dome alone, crews sprayed 7,000 cubic yards of EcoCemPLC-enhanced shotcrete.

The PCA encourages improving energy efficiency during cement production as a means of reducing the amount of CO2 emitted for each ton of product. The Mitchell kiln will produce clinker using 100% natural gas. This will reduce the carbon emissions of clinker production by 25-30%.
Carbon capture, utilization, and storage (CCUS) is identified in the PCA Roadmap as one of the pathways for unlocking emissions reductions along the cement and concrete value chain because it directly avoids a significant portion of cement manufacturing emissions. The Mitchell facility was selected by the U.S. Department of Energy's Office of Fossil Energy and Carbon Management to conduct a front-end engineering design (FEED) study on carbon capture. The Department awarded Heidelberg Materials (then Lehigh Hanson) approximately $3.7 million toward the project, and the company will contribute about $1.1 million in additional funds, bringing the total project value to around $4.8 million.
The FEED study will involve retrofitting Mitsubishi Heavy Industries America, Inc.'s carbon capture technology, which is expected to capture and sequester approximately two million metric tons of CO2 per year, or 95% of the facility's CO2 emissions. The study will evaluate the cost and performance of the overall project, including site-specific considerations for full-scale implementation. It will also examine the positive social, economic, and environmental benefits to the surrounding community.
The new Mitchell plant is significant for its geographic region, being one of the largest investments ever made in Lawrence County. The plant is expected to provide approximately 50 new full-time jobs, going from 120 to more than 170 full-time employees. It will also help ease cement supply constraints in the industry, producing four times the amount of cement compared to the existing facility, with total annual cement production expected to be 2.4 million tons.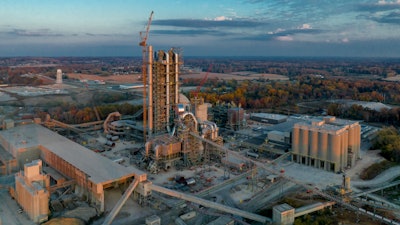 Construction efforts included implementation of smart motor control centers and other cutting-edge technologies that will improve plant operations, as well as enhanced bulk loading and package output. The distribution terminal will accommodate 32,000 tons of additional cement storage and the company expanded its terminal network to bring cement closer to customer locations. For bagged products, the plant has an automated rotary-type packing machine capable of filling 3,600 full-sized (92-lb.) bags per hour. Capacity was also added to the company's rail network, with approximately 1,000 additional rail cars leased to move the additional product volume and ensure transport availability. An abandoned rail yard near the site was purchased and renovated, providing the infrastructure necessary to house the additional cars.
At a time when the concrete industry is making every effort to reduce carbon emissions, Heidelberg Materials' Mitchell plant represents a major stride forward. Its four-fold increase in cement production will also mean a significant easing of current cement supply constraints.
About the author
As a member of AOE, a subsidiary of the American Concrete Institute, Kristin Dispenza has 30 years of writing and editorial experience in the architecture/engineering/construction industry. She received a Bachelor of Science degree from The Ohio State University College of Engineering/School of Architecture, coupling her writing skills with technical background.